How Grooms Are Getting Involved, After The Wedding Planning Is Already Done
Posted: October 25, 2013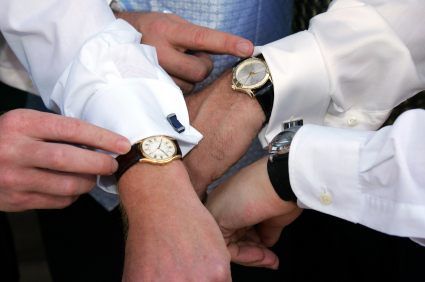 Wedding planner and star of TLC's "Wedding Island", Sandy Malone, stopped by to share her experiences with our grooms.
Just because a groom isn't very involved in the wedding planning doesn't mean he doesn't care. Sure, for some it does – they just want to be told where and when – but for most grooms today, a more active role is what they'd like to be taking. And although this may be true, some honestly feel like they can't because of work, school or travel commitments. But don't feel too badly guys. I've had grooms plan entire weddings when their bride was in medical school or serving overseas. I've also had a number of grooms who were on active duty themselves, and could barely participate in the wedding planning (not get back from deployment until a few weeks before the big day). They're all totally off the hook, in my opinion. Although, you'd be surprised how many of them did participate in choosing menus, music… via online communication with their future bride. I even have a groom who is a merchant marine and the bride doesn't even know where he is half of the time. But when he's home, we scramble to schedule the conference calls that involve things he really cares about (venue selection, the bar and the welcome party). This groom WANTS to be a part of the planning, so we do our best to make it work.
Not a member? Sign up to read this blog post, and get The Ultimate Groom's Guide FREE!