The Groom's Blog
How Grooms Are Getting Involved, After The Wedding Planning Is Already Done
Posted: October 25, 2013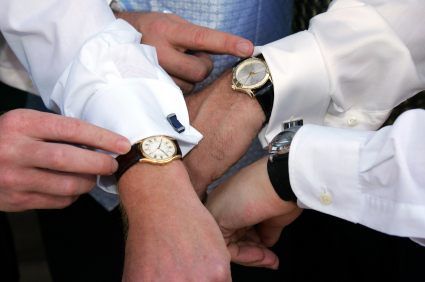 Wedding planner and star of TLC's "Wedding Island", Sandy Malone, stopped by to share her experiences with our grooms.
Just because a groom isn't very involved in the wedding planning doesn't mean he doesn't care. Sure, for some it does – they just want to be told where and when – but for most grooms today, a more active role is what they'd like to be taking. And although this may be true, some honestly feel like they can't because of work, school or travel commitments. But don't feel too badly guys. I've had grooms plan entire weddings when their bride was in medical school or serving overseas. I've also had a number of grooms who were on active duty themselves, and could barely participate in the wedding planning (not get back from deployment until a few weeks before the big day). They're all totally off the hook, in my opinion. Although, you'd be surprised how many of them did participate in choosing menus, music… via online communication with their future bride. I even have a groom who is a merchant marine and the bride doesn't even know where he is half of the time. But when he's home, we scramble to schedule the conference calls that involve things he really cares about (venue selection, the bar and the welcome party). This groom WANTS to be a part of the planning, so we do our best to make it work.
My husband, Bill, was a half-way in the middle kind of groom. He was happy to sit and listen to me babble endlessly about planning details and when we had to fire the wedding planner and fix our entire wedding ourselves three months before the big day, he was right beside me jumping on airplanes, stuffing welcome bags and making sure my uncle had his favorite brand of booze waiting in his hotel room. He did not spend hours agonizing over menus or napkin colors, but he was 100 percent my partner in crime when the chips were down and it was time to go to Vieques Island and make a wedding out of the 30-plus boxes we'd shipped ahead UPS.
What I didn't know, was that my man and his groomsmen were on a two-part mission to surprise me on our wedding day. First, Bill wanted to show up at the wedding on a white horse (you wouldn't think it was that hard on an island filled with thousands of roaming caballos, but the white ones were elusive that day). His wing-man Dan is a bona fide cowboy, and he was pretty bummed. The second surprise that fell through was that Bill had set up a police escort from the ceremony to the reception – something that isn't terribly uncommon for a high ranking official in a small town. Except for the fact that Vieques wasn't our small town and we were tourists. That said, the police were actually on board (humoring the dumb gringos and swapping police patches). Then it all fell through when there was a car accident on the island during my wedding, and the only police car on duty was busy working that. So no police escort either. But certainly not for lack of effort, which is what mattered most. Bill was really bummed, and I just couldn't stop laughing that they had spent all day on these missions just for me.
Bill finally had his moment to surprise me, a week later, when we were posing for pictures in Freedom Plaza. Bill commandeered a Capitol Police bike patrol, and had our entire wedding party escorted up the street – lights, sirens and all. Wasn't exactly what he had in mind, but it was hilarious and sweet all the same. The officers made us promise not to post those pics, and we never have. Don't want to get anybody in trouble for making my wedding extra special.
Many times those grooms who haven't put much time into the planning will get in touch with me before the wedding to ask for help putting together something special for their bride. This has included:
1. Breakfast in bed
2. A romantic horseback ride
3. Helicopter ride (not even kidding)
4. Surprise cake for brides whose birthdays fall during the wedding weekend
5. A couples massage, the morning after they arrive, to help release the stress of travel out of their systems
All of these are incredibly thoughtful touches that guys can pull off with the limited time they have to actually plan. One groom even asked me to set up an all day spa escape for the bride and her best friend – anything I thought two girls would enjoy – and just gave me his card to cover it. He was calling from an air base somewhere, and couldn't make arrangements himself.
Just because you didn't have time to plan your wedding hand-in-hand with your bride doesn't mean you can't add meaningful memories and tributes to the wedding festivities. If you have a wedding planner, coordinate with her so that you can pull off the surprise in a good way at a good time. Take all the help you can get. But if you have a solid idea of something you know your bride will love, be assertive and figure out a way to make it happen. Make something come true for your bride that she would never expect.
Until next time, happy wedding planning from Weddings in Vieques and Weddings in Culebra!
Sandy
Sandy Malone is the owner of Weddings in Vieques, LLC, parent company of Weddings in Vieques, Weddings in Culebra, and Flowers in Vieques. Weddings in Vieques is a full-service destination wedding planning company based on Vieques Island, seven miles off the coast of Puerto Rico. She is also the star of TLC's "Wedding Island."