Groom Roast
"A friend is someone who knows us, but loves us anyway."
—

Fr. Jerome Cummings (author)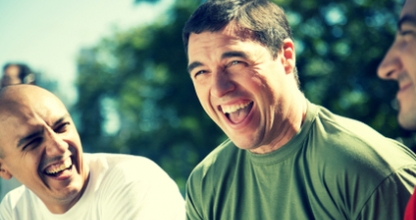 Overview
"A roast is an event in which an individual is subject to public appropriate comedic insults, praise, outlandish true stories and uplifting tributes. The implication being that the roastee is able to take the jokes in good faith knowing that he is not being seriously criticized or insulted, and therefore showing his good nature. It is considered a great honor to be roasted, as the individual is surrounded by friends who may receive some of the same treatment during the course of the evening." – Wikipedia
Why.
This is "man time" for both sets of family and friends, of all ages, to get to know each other better. The groom is also given practical home improvement related gifts, and a little fun is had at his expense.
Who.

Planned by the groomsmen
Male family and friends (from both sides) who are also attending the wedding

What.

Open gifts.
Groomsmen keep track of who gave what gift, so the groom can send out a thank you note later
Play games.
This could be: poker, various sports, team building activities, Wii games and/or groom trivia.
Follow the roast rules:

All the groomsmen must prepare a roast (others are optional). Those that prepare a roast should remember that they may receive some of the same treatment in return.
Jokes used in the roast must be suitable for all ages attending
Each roastee must use a combination of comedic insults, praise, at least one outlandish but true story and end with an uplifting tribute

Where.

At the home of one of the groomsmen (roastmaster for the evening), or a third party location chosen by the groomsmen

How.

Ask guests to bring a home improvement type gift: power tools, lawn and garden supplies, grilling accessories…
Create a budget to determine who will be paying for what
Keep all guests in the loop, as you plan. Use email, Facebook Group, Yahoo Groups…
Get manly food

When.

Coincide with the bridal shower, or as close to that date as possible
Trivia Questions
Send this set of questions to the bride beforehand, so you have the answers ready to go. For every question the groom does not answer correctly, he must receive a small penalty (ex. each wrong answer means he has to add another marshmallow to his mouth or down another shot).
What was the first movie you saw together?
Where did you share your first kiss?
What's one thing she couldn't live without?
What is her favorite candy?
How long have you been together?
How many piercings does she have?
What's her favorite restaurant?
How many kids does she want?
How many tattoos does she have?
If she could be a famous person who would she be?
What kind of pet would she want when you're married?
Where would she rather live: the city, the coast or on a lake?
What is her drink of choice while dinning out?
What was her favorite childhood toy?
If she could have any car what would it be?
What is her biggest fear?
What's her biggest pet peeve?
What does she want most out of life?
What is the number one thing she likes to spend her money on?
What does she like to do most on vacations?
What is her favorite activity to do with you?
What's her favorite holiday?
How many serious relationships has she been in prior to yours?
What is her favorite color?