Before The Wedding
"Any man can be a father. It takes someone special to be a dad."
—

Unknown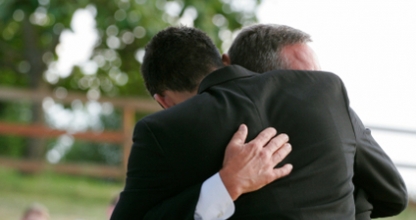 Review expenses.
See what's traditionally paid for by the groom's family (what you actually pay for may vary).
Know the cost.
The average US wedding in your area (not including the honeymoon). The big ticket items include: venue, food, alcohol and the photographer.
Set your budget.
Decide what you feel comfortable spending, and review how the bride and groom can cut costs.
Be there for guests.
Assist with travel arrangements for out-of-town guests.
Get your attire.
Pick out a tux or suit (follow the groom and groomsmen). If they are getting suits, just be sure to match your tie with one or multiple wedding colors.
Attend pre-wedding events.
Depending on what the groom wants, you may or may not be invited to the groom roast or bachelor party. Regardless, you will go to the rehearsal and rehearsal dinner (traditionally hosted by the groom's family).