Setting
"Love is no assignment for cowards."
—

Ovid (Roman poet)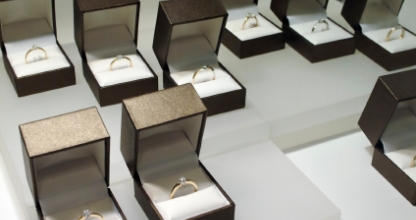 Without her knowing, find the answers to these questions:
Are most of her rings Yellow Gold, White Gold or Platinum?
Are her rings simple or extravagant?
Are her rings more modern looking or antique?
Are the bands of her rings thin or thick?
Do her rings have a single stone, multiple stones or both?
Tips:
Make sure the ring is NOT too small.

You want it to fit on her finger during the proposal… it can be resized later (just be sure to get the whole ring insured in case it slips offer her finger and gets lost). To help with sizing, you can do any or all of the following (her finger size may vary, so go a little bigger just in case):

Put one of her rings on your pinky finger and mark your finger where it stops
Trace the inside of one of her rings on paper

Consider a temporary setting.

Just use the actual diamond you've picked, and have her pick out the actual band after you propose.

Consider the environment she works in.

Some settings leave the diamond too exposed.