Romance
"When it's right, you can't tell who is kissing whom."
—

Gregory Orr (poet)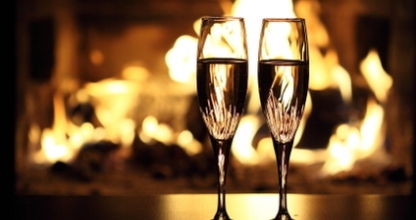 Stay emotionally connected.
Be the instigator of appreciation and thoughtful gestures. She should in turn do the same, which will continue to inspire your romantic side. Even if she doesn't fully appreciate what you've done and you feel like you can't win, you have to keep trying. Eventually, it will really pay off.
Make a daily routine fun.
Take an activity you enjoy doing together, and do it in a different way, at a different place or just add a little something special to it.
Celebrate your love randomly.
Don't just wait for birthdays and holidays like Valentine's Day to show her how much you love her. Try doing or getting her a little something just because.
Add a special scent or decoration to your bedroom.
Memories are very powerful, so why not create an environment that reminds you of a romantic time or trip you've taken together.
Just kiss her.
When she least expects it, grab her close and give her a long and powerful kiss. It will make her tingle.
Plan "date nights".
Each of you should plan a date once a month. Make it a complete surprise, or drop a few hints to build her anticipation. You can even be spontaneous once in a while (have an overnight bag in your car at all times). It doesn't need to be expensive, just thoughtful. Here's an example:

Remove all distractions
Put a special invite together with only the date, time, place (your home is simple and great) and what to wear
Set the mood with candles, music and her favorite food
Gently bring her close for a slow dance
Have an activity prepared: sexy movie or board game (Loveopoly or make new rules for regular Monopoly… Boardwalk becomes a back massage; Park Place becomes pick your pleasure and when one of you passes Go you share a long passionate kiss… have fun with it)
Plan a moonlight picnic with her favorite dessert, candles and bottle of bubbly
In the morning, leave a love note by her pillow letting her know how wonderful the evening was
More ideas…

Stare into her eyes.
By doing this often, you'll build intimacy – creating a deeper
emotional connection that will set the foundation for many romantic activities.
Start a family calendar.
This way you can see when you both are free, so you can surprise her
with a fun night – just the two of you.
Reminisce about why you love each other.
Each of you should get a piece of paper and place it on a table horizontally. Then, draw a circle the size of a plate. Inside that circle, draw another circle the size of a pancake. Inside the bigger circle write the word "shallow". Inside the smaller circle, write the word "meaningful". For 30 minutes, on your own, write both the "meaningful" and "shallow" reasons why you married your spouse. Don't be afraid to be honest! After you are done writing, share your "shallow" reasons and then "meaningful" ones with each other. Being so open, honest and vulnerable with the person you love usually sparks a little romance.
Give reminders of your love for her.
Hide a simple love note in her pants pocket, pillow, book she is reading or a special spot around your home. Write a specific reason why you love her, and don't be cheesy.
Appeal to her senses.
Compliment her and tell her why you appreciate her. Give her subtle touches often. Listen and focus on her when you are with her, and plan things to do that she really likes.
Get her something nice.
Now that you know her ring size, be sure you also know her dress, shoe, stocking, blouse, pant, coat, bra and panty size. You will always need them.
Just add candles.
When she gets home from work, surprise her by lighting candles throughout your home and playing some romantic music. Then, invite her for a soak by candlelight.
Keep your anniversary special.
Don't treat this as just any occasion. Go out of your way to make celebrating your love really important.