Requirements
"Love is a decision, not an emotion."
—

Unknown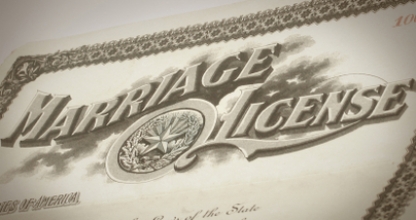 Your state/county will fall somewhere between each of the ranges listed below.
Minimum Age:
18 (younger with parental consent)
Commemorative Marriage Certificate:
$4 to $88.50 (some states offer discounts (download in right column on link page) for doing some premarital counseling)
Forms of Payment Accepted:
Cash or certified check
Waiting Period:
None to 5 days
Valid Prior to Wedding:
30 days to 1 year
Blood Test:
Most don't require this
Residency:
Most don't require this
Applicants apply in person:
Most don't require this
Appointment:
Most don't require this
Necessary Identification:
Varies (visit the National Center for Health Statistics if you need extra copies of your birth, death, marriage or divorce certificate)
Pick up the packet of official paperwork.
This is located at the county recorder's office (make sure it's the actual county you're getting married in).
Fill out the forms.
Some of them are to be completed after the wedding. Remember to have: maiden names of both mothers, as well as the middle names and birth places of both sets of parents.
Turn in the completed forms.
Bring them back to the county recorder's office (or send them back by mail if that option is available), and then you'll receive your commemorative marriage certificate.
PLEASE NOTE: Each state/county's requirements are different and subject to change, so contact your county's recorder for state/county specific details.