Groom's Cake
"You don't love someone for their looks, or their clothes, or for their fancy car, but because they sing a song only you can hear."
—

Unknown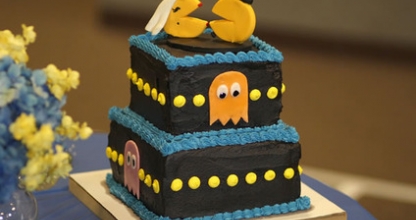 Who:
It's been a recent tradition for this to be a surprise gift from the bride to the groom.
Why:
Originally, this cake was meant for single women at the wedding. They would take a packaged slice home as a wedding favor, and sleep with it under their pillow that night in order to dream about their future groom. Today, this cake has become a way to honor the groom. It's meant to be a fun way to represent your personality, style and/or passions.
What:
A small cake that's traditionally dark in color (a contrast to the white wedding cake). Common flavors are: chocolate, red velvet and carrot, but the flavor can be whatever you like best. Also, if you're more into pies, brownies or cupcakes, go for it! Below are some popular design categories:

College
Vehicle
Food
Hobby
Hometown
Movie
Sports Team
Travel Destination
Video Game
Work

Where:
This has become a tradition in the South, but is becoming popular across the US.
When:
It can be served as either the main dessert at the rehearsal dinner, or as an additional option for guests at your reception. If served at the reception, it's typically placed next to the main cake wedding and served at the same time.
How:
Most bakeries who make cakes will be able to create this specially designed dessert.